Je vous le promettais, le voici : appliqué en intégral sur un le OPI I'm Fondue of you présenté plus tôt (ICI). Un grand merci à ma belle Amely pour ce superbe cadeau ! La coquine savait que je le voulais et par un beau matin j'ai eu la surprise de le découvrir dans ma boîte aux lettres avec un adorable mot ! En plus d'être douée en nail art ET en couture (elle créé des sacs à main magnifiques) cette fille est un ange !
As Gold as it Gets fait partie de la collection Luxeffects d'Essie, cette fameuse collection de top coat à effet (dont le Shine of the Times joli dupe du très prisé Nfu Oh 38 a fait grand bruit). Il est donc composé d'une base jelly transparente et rempli de petits flakies dorés. En intégral ou en touche pour le nail art, cette merveille est vraiment un must-have à posséder !
I promised you, here is : applied on the OPI I'm Fondue of You that I presented you earlier (HERE). A big thanks to Amely for this marvelous gift! The miss knew that I wanted it and by a beautiful morning I had the surprise to find it in my letter box with an adorable message! She is also very endowed in nail art AND in sewing (she makes marvelous hand bags) this girl is an angel!
As Gold as it Gets takes part in Luxeffects collection by Essie, this famous collection of effect top coat (of whom the Shine of the Time, dupe of the famous Nfu Oh 38). It is composed by a jelly transparent base full of little golden flakies. In integral or in touch for nail art, this beauty is a must-have to possess!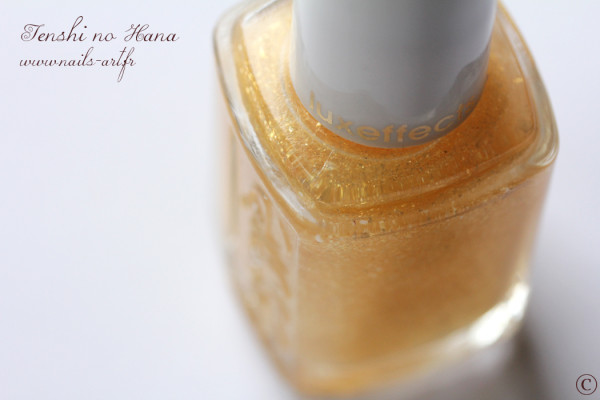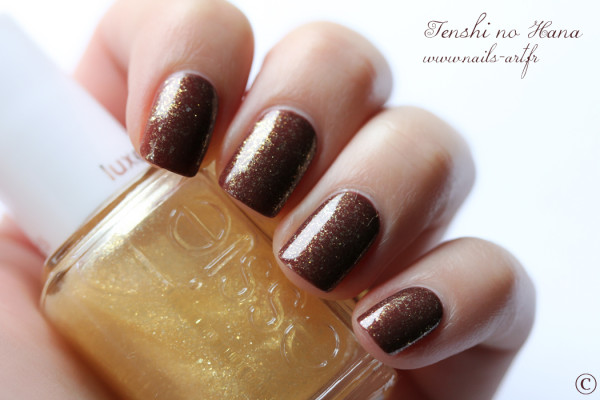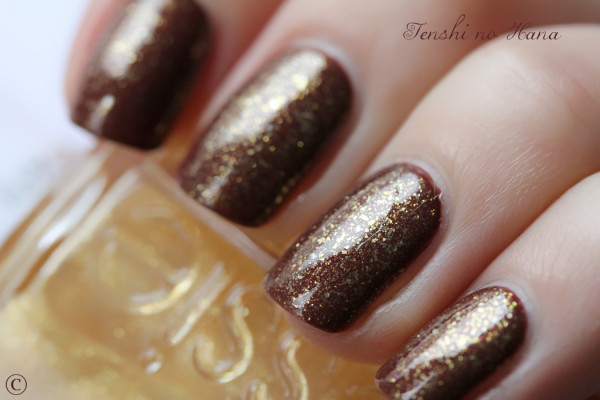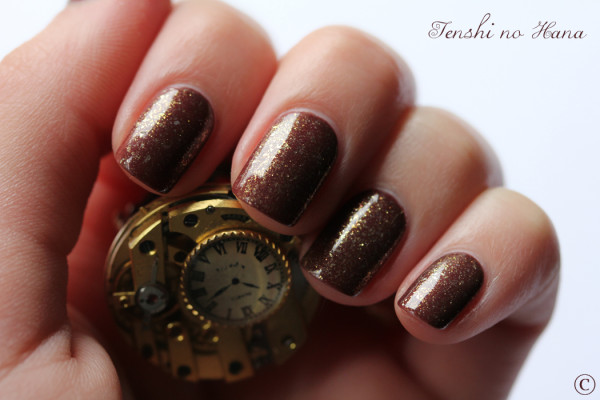 Ma bague Steamp Punk provient de la boutique The Bat in the Hat
Salut les filles !
Aujourd'hui je vous propose de découvrir l'un des nouveaux Essie de la collection Navigater Her, j'ai nommé le Orange it's Obvious, récemment reçu de la part de Manucure & Beauté. Avec ce soleil, j'ai envie de ressortir les teintes chaudes et estivales ! Ce Essie est clairement orange, mais un orange très chaud, tirant très nettement vers le rouge. Il s'agit d'un vernis crème sans aucun reflets ni une micro paillette.
Hi girls !
Today I am go to show you one of the new collection Navigate Her by Essie, I've called Orange, it's Obvious, recently received from Manucure & Beauté. With this sunshine, I want to apply some summer and warm tints! This Essie is clearly orange, but this is a very warm orange close to red. It is a cream nail polish without any reflections or glitters.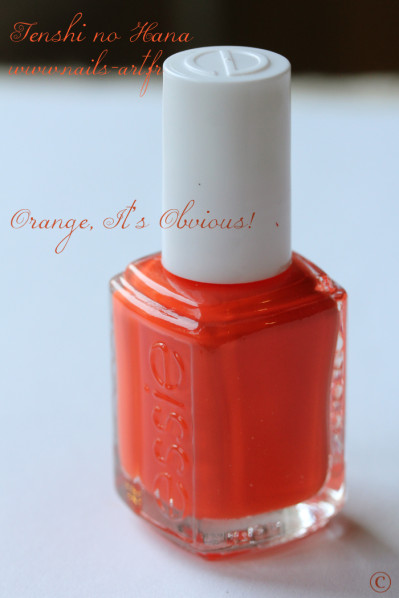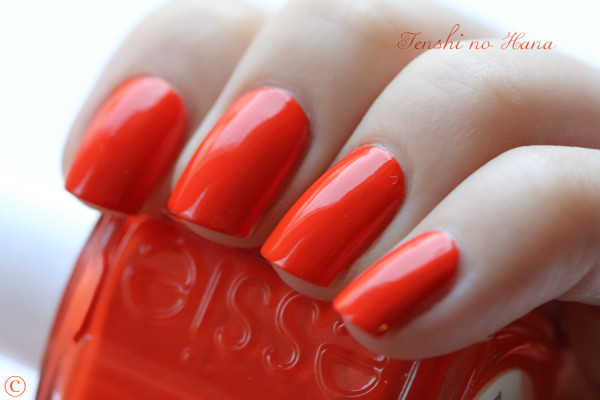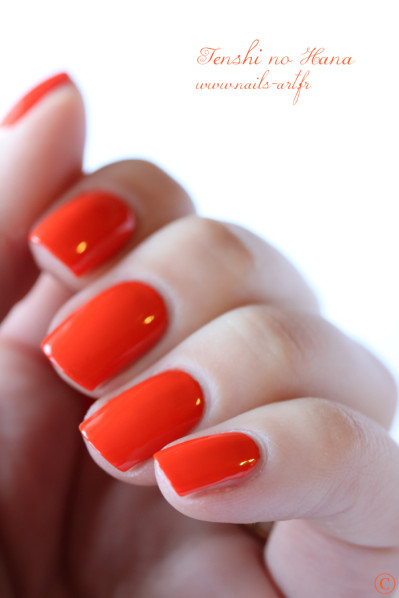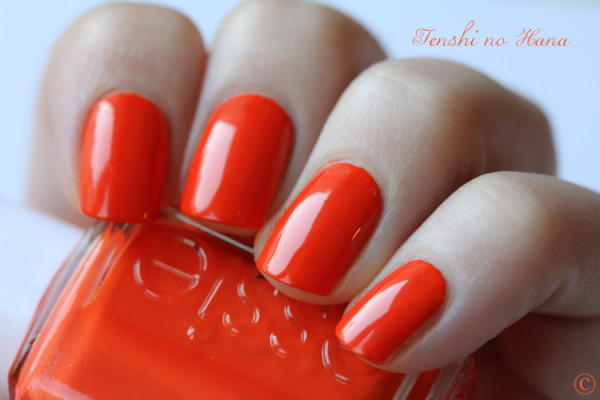 C'est au tour du violet d'entrer en scène !
Aujourd'hui je vous présente donc le Sexy Divide de Essie. Un sublime violet profond. C'est une couleur vraiment classique mais qui fait toujours autant d'effet je trouve 😉
And now it's violet day!
Today I'm showing you Sexy Divide from Essie. A beautiful deep violet. It's a really classic colour but it still does its effect!! 😉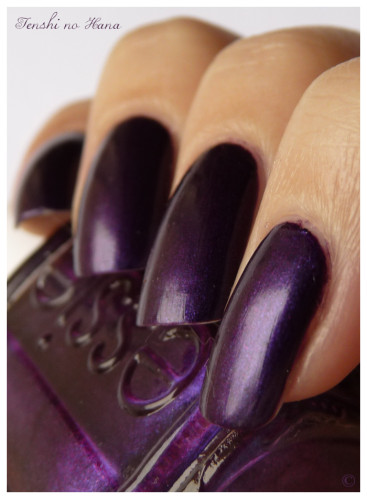 2 couches – sèche vite

Application :

 bonne (pinceau moyen)

Opacité : parfaite. Les 2 couches c'est pour la forme !

Texture : très bonne

Séchage : normal

 

2 coats

, sèche vite

Application :

 

good (the brush is average)

Pigmentation : perfect. It could almost get away with one coat.

Texture : very good

Drying time : normal
J'ai acheté ce Essie chez Monoprix (pour celles qui ne sont pas encore au courant, on trouve désormais des Essie dans les Monoprix de France). Et j'ai eu la surprise de constater une différence flagrante avec les pinceaux des autres Essie que je possédais déjà. Je vous laisse constater…
I bought this polish in Monoprix (a chain of drugstores in France that now sell Essie polishes). And I was quite surprised to see that the brush was very different from the other Essie I had. Here's a picture for proof…
Il s'avère que les pinceaux des Essie pour la France sont différents. Ils sont tous plats et larges…je ne sais pas pourquoi ils ont fait ça. Est-ce que les clientes françaises ont une préférence pour ce genre de pinceau ? Est-ce supposé être plus facile pour l'application ? En tout cas moi je ne trouve pas. Je préfère les pinceaux fins qui s'avèrent bien plus précis pour contourner les cuticules.
So the brushes for Essie in France are different, flat and wide… I don't know what they did that for. Do French customers prefer this kind of brush? Is it supposed to be easier for application? Not for me anyway. I prefer thin brushes which are easier to work around the cuticles.
Et vous, plutôt pinceau américain ou pinceau français ?
What about you, are you more for the American brush or the French brush?